Library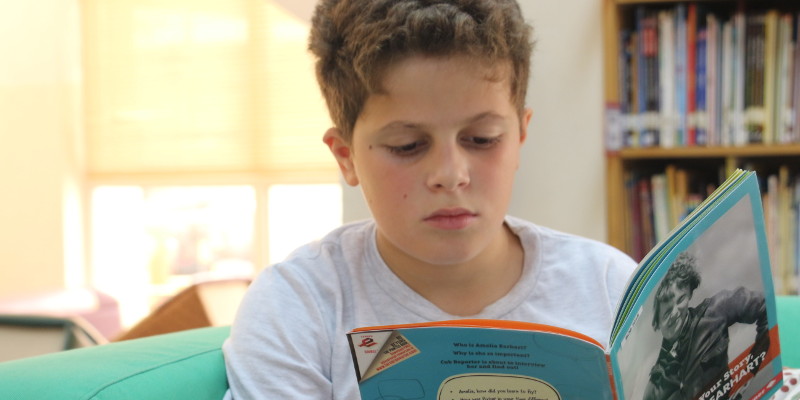 Welcome to EMS Doha Library!
For centuries, libraries have been centres of exploration and discovery, places where we acquire new knowledge, and also develop and nurture a life-long love of reading and learning. That has not changed, but in today's world, it is also a place where people may, collaborate, create, and socialize.
At EMS Doha, the library has spaces that are  inviting, lively, and comfortable for our patrons to read, research and relax.
DESTINY DISCOVER
Our library collection can be found in Destiny Discover. It can be accessed 
HERE
 to find, locate & reserve books and lots of other resources. Use your school Google account to log in.

EMS Doha Collections by Destiny here
We have Collections by Destiny to bring together resources such as sites featuring books in English and Arabic, read-alouds, research, STEM, coding, creativity and more!

LIBRARY COLLECTION
The library collection has grown to 35,667 books including 3,669 titles in Arabic and 390 in French. Along with print materials, there are electronic books, or e-books, with remote access for streaming and or download. Soon to be made available are several databases provided by Qatar National Library, many of which are accessible also from home. There is a significant collection of teachers' resources which includes KITs (book, CD, related toy characters), DVDs, more than 100 titles of LIT SETS (multiple copies of books for class use) and big books or oversized paperbacks.
Library materials are carefully selected for patrons at all levels from resources that support the school's curricula suitable for research and other projects, to age-appropriate novels in a wide range of genres, graphic novels, and interactive educational games, some available online and in print.
PRIMARY LIBRARY
The Primary Library is a bright, airy space with various seating areas and a wide selection of picture books (and toys) for our younger readers in the Everybody section. Also for our early readers, we have created an Everybody Non-fiction or E-N/F section, for their convenience. These non-fiction titles contain larger texts and images suitable for students in Lower Primary school.
SECONDARY LIBRARY
In the Secondary Library, the books are situated among a variety of seating options with areas for individual study and collaborative work as well as for quiet reading and contemplation.
LIBRARY STAFF
The library staff provides students with guidance in selecting their books, as appropriate. Fountas and Pinnell reading levels are marked clearly on the spine of several books which help to develop independence and confidence in our early readers as they learn to find books that interest them. The staff also assists teachers with resource materials and class library visits. The librarian is available to both primary and secondary classes for instruction in information literacy and research skills.
Primary Library
May Carillo, Teacher Librarian
Hanan Noaman, Assistant Librarian (Arabic Cataloguer)
Manju Shrestha, Library Assistant
Secondary Library
Liz Carillo, Assistant Librarian
LIBRARY HOURS
Primary Library
Before School (6:45 a.m. – 7:05 a.m.)
First Break Only
After School (1:45 p.m. – 2:20 p.m.)
Secondary Library
Before School (6:45 a.m. – 7:05 a.m.)
First Break Only
After School (1:50 p.m. – 2:20 p.m.)
Faculty and Staff are welcome anytime between 6:45 a.m. and 2:20 p.m.
Primary students enjoy library class visits weekly. Outside of these times, teachers issue library passes to students for them to visit during class time. Secondary school students may come to the library at anytime. During class times they too need to have a library pass.